CIPSM Graduate School
Graduate School Life Science Munich (LSM)
In order to promote future scientists the best way we can, CIPSM decided to form an own Graduate School. The Graduate School Life Science Munich (LSM) of the Ludwig-Maximilians-University Munich (LMU) offers an international doctoral program in life sciences covering areas of anthropology, biochemistry and cell biology, ecology, evolution, genetics, microbiology, plant sciences, systematics and zoology to outstanding motivated and qualified researchers. The program, which will be complemented by lectures, seminars and workshops, provides comprehensive scientific training in one of Germany´s highest ranking universities. It is open for students that hold a Master´s or Diploma´s degree. Applicants will be selected based on academic qualification, research experience and motivation. Additionally, the LSM accepts outstanding students with a Bachelor´s degree. Bachelor graduates will be enrolled in a preparatory program, which is covered by a stipend of 643 Euro per month for living expenses.


If you are interested, please visit our website www.lsm.bio.lmu.de for further information and online application.

CIPSM Educational Seminars
Mondays


Tuesdays


Wednesdays


Thursdays


Fridays

Bayer AG Board of Management Member Wolfgang Plischke lectures at CIPSM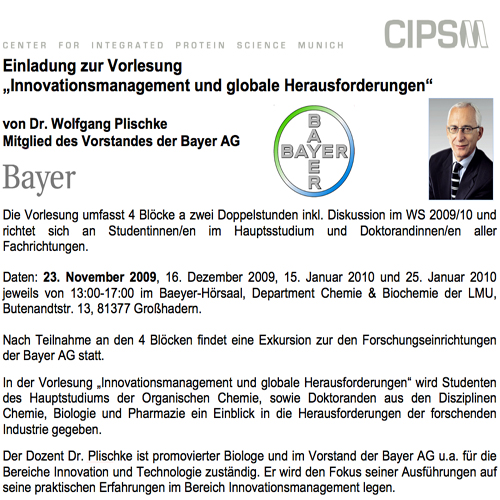 CIPSM lectures at the elementary school
In order to amaze our next generations for science and chemistry in particular, CIPSM hosted a two day event at an elementary school with lots of do-it-yourself experiments for the school kids. On the first day (11th of May) Oliver Baron gave an experimentary lecture with lots of explosions and "magical" reactions at the Department of Chemistry of the LMU for around 300 kids focusing on water and matter in general.
The following day the kids experimented themselves and got a first glimpse into science. We at CIPSM got a very good feedback from the school kids which already franticly started buying chemistry kits.-)